Aufnahme der Backing-Vocals.
Uh oh. Get ready for a new video with these three lovely ladies:
Meike Krautscheid
(Singer/Songwriterin & Kontrabass), Bianka Syskowski , Singer/Songwriterin von Gokus Jim and our lovely Julie from
Chinook & Co.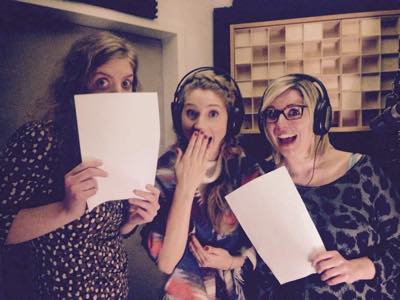 Chinook&Co nimmt eine komplette CD in meinem Studio auf. Das ist das zweite Recording-Wochenende und wir arbeiten alle mit Herzblut an dieser wunderschönen Musik. Heute waren Mandolinen, E-Bass, elektronische Magnetfeldbögen für Saiteninstrumente, Kontrabass, E-Gitarre und Akkordeon vor den jeweils passenden Mikrofonen dran. Gestern haben wir das Schlagzeug zusammen mit der ganzen Band aufgenommen. Und morgen geht es weiter mit Vocal-Overdubs und Piano. Ich freu mich schon auf den Endmix!